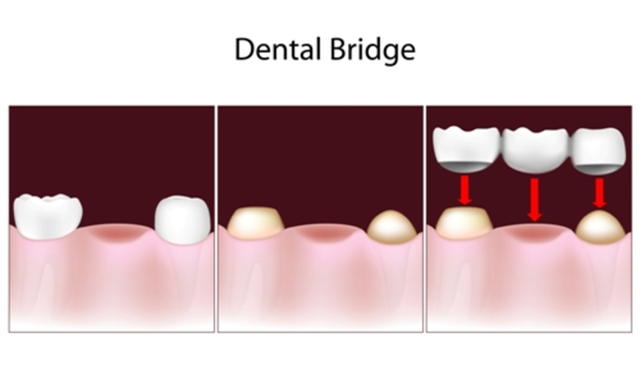 For people who are missing one or more teeth, dental bridges are a prevalent choice. Bridges are used to fill in the spaces left by missing teeth in order to improve your ability to chew and speak as well as to restore your smile. Dental bridges near you, however, have their own set of benefits and drawbacks, much like any dental procedure.
What are Dental Bridges? 
Dental bridges are a type of restoration procedure used to replace one or more missing teeth. A dental crown is attached to the natural teeth on either side of the gap created by the missing tooth or teeth in order to hold the artificial tooth which is also known as pontics.
To make room for the crowns, a part of the enamel on existing teeth is removed. After that, the bridge is attached with cement to replace the lost teeth's appearance and functionality. Dental bridges are made to match the color and shape of your natural teeth for a seamless, natural-looking result. They can be made from a range of materials, such as porcelain, ceramic, or metal alloys.
Advantages of Dental Bridges
Improved Appearance
The ability to enhance the appearance of your smile is one of the primary benefits of dental bridges. Bridges easily complement your existing teeth since they are made to feel and appear like your natural teeth.
Restores Function
Your ability to properly eat and speak can be regained with dental bridges. It can be challenging to consume certain meals or speak clearly if you have missing teeth. In order to enjoy your favorite foods and interact with others, bridges can assist in alleviating these problems.
Long-Lasting
Dental bridges can last for many years with the right upkeep and care. If you are lacking teeth, they are an excellent long-term option.
Easy to Maintain
The upkeep of dental bridges is not too difficult. There are no particular cleaning guidelines to follow; you can brush and floss them the same way you would your natural teeth.
Drawbacks of Dental Bridges
Requires Healthy Teeth
Healthy teeth on each side of the gap are necessary for dental bridges in order to support the bridge. This implies that you might not be a good candidate for a bridge if you don't have healthy teeth.
Expensive
Dental bridges can be expensive, particularly if you require several bridges to replace multiple missing teeth. You might bear a sizable percentage of the expense, depending on your insurance coverage.
Requires Multiple Visits
A dental bridge often requires several dental appointments. For individuals with hectic schedules or little free time, this may be inconvenient.
Increased Risk of Tooth Decay
As bacteria can gather in the tiny crevices between a dental bridge and your natural teeth, dental bridges can raise your risk of developing tooth decay. To reduce this potential risk, it's essential to practice proper oral hygiene.
Visit Us Today
Dental bridges can be a good alternative to explore if you're looking to restore your smile. But it's important to weigh these pros and cons before deciding if a dental bridge is indeed the right option for you. Our dentist near you can help you make an informed decision based on your specific needs and circumstances.
For more information, please give us  a call or come into our local dental office.